Choosing the Right Wheelchair Ramp for Your Needs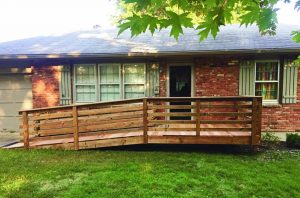 Finding the right wheelchair ramp for your or your family members can be complicated. Before you make a purchase, you should take the following into consideration:
Ramp Length –The ramp length will primarily be determined by how high your door threshold is above the ground, sidewalk or garage floor. For every inch of rise, you generally need one foot of ramp length.  This can vary some depending on the type of wheelchair used.  A 12-inch-long threshold / transition ramp can used to smooth out a small bump at the threshold of a door, whereas a 21-foot ramp may be needed to get someone up 21 inches into their front door.
Ramp Material – Custom built wheelchair ramps that are built to last in an outdoor environment are usually constructed of pressure treated lumber or composite material.  Modular ramps are often constructed of aluminum and are truly maintenance free.
Ramp Location – Wheelchair ramps located in the front or back of the home provide access to the front or rear door accordingly. An attached garage can be a great place to place a wheelchair ramp because the ramp is covered and does not require the use weather resistant materials and shelters users from the elements.
Purchase high-end wheelchair ramps in Kansas City and the surrounding communities when you work with the team at Home Access Remodeling. Our business is dedicated to providing ramps that are built to your exact specifications.