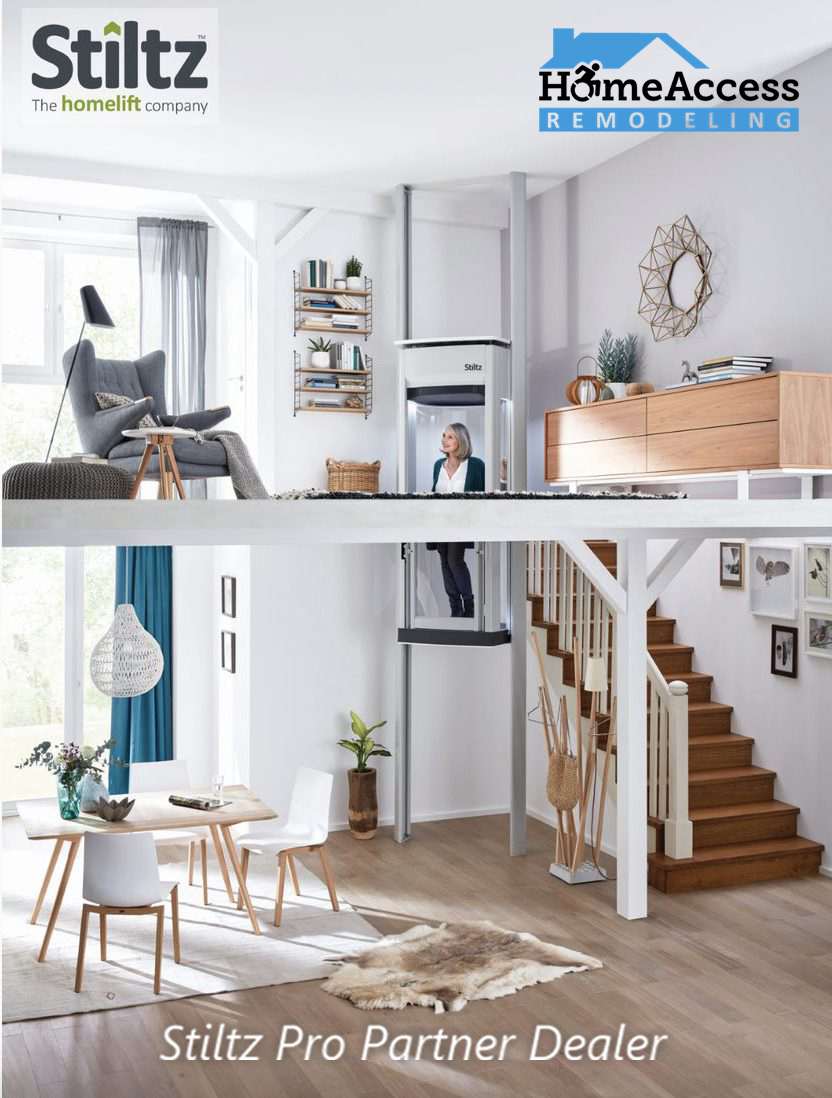 If you have limited mobility or use a wheelchair, you know what a challenge stairs can be. Whether you need to get to the second floor of an office building, a restaurant, or your home, if there isn't an elevator, you're basically stuck. That's where Home Access Remodeling can help. We can install a convenient and attractive elevator in your Dallas home, providing you the freedom to access every floor of your home with ease. Your daily life can be transformed, and you'll no longer feel trapped by limited mobility.
With access to all levels of your home, you will regain your independence, your confidence, and your freedom. While home elevators aren't a new invention, their popularity has grown substantially in recent years, mostly because:
Home elevators are more affordable now than in the past.
Today's home elevators are more visually appealing and luxurious.
Modern elevators are less intrusive to a house's structure.
The latest technology enables customized features to fit your exact needs.
Although adding an elevator to your home is a much simpler process now than it used to be, in-home elevator installation is still a substantial modification because elevators need to be safe, reliable, and operate efficiently. Only a professional home elevator installer can be trusted to make this type of modification, ensuring the structure remains properly supported, the elevator's operation is completely safe, and the electrical connections are properly installed. With decades of experience in elevator installation for countless homes, Home Access Remodeling is a licensed, knowledgeable, and trusted contractor who is familiar with the building codes and requirements for home elevator installation in the Dallas area. We're dedicated to helping homeowners in our local community, and because we consistently deliver quality service, we've built a reputation as a trusted contractor.
Some benefits of in-home elevators include:
Safety: A properly installed elevator in your Dallas home eliminates the hazards stairs pose, not only for those with limited mobility but for small children and the elderly. Elevators come with their own safety standards. Our professionals will ensure your new home elevator operates safely, and we'll show you how to operate it properly.
Equity: A professionally installed in-home elevator will increase the property value of your Dallas home.
Lifestyle: Home elevators allow people with limited mobility to remain in their homes longer, so you can enjoy the comforts of living in your own home for much longer.
If you're ready for the freedom a home elevator can add to your life, reach out to Home Access Remodeling now to request your in-home evaluation. We look forward to serving you! Call us today at 817-989-9279! A trusted representative is waiting to assist you!
Location:
2000 E. Lamar Boulevard, Suite 600
Arlington TX 76006