Modifying Your Home With A Stair Lift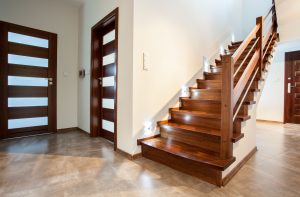 Is it difficult for you to get up and down stairs inside or outside your home because of your disability or mobility limitations? Some modifications could be made to your home to make it easier for you to move around, chief among them, stairlifts.
A stairlift has a chair that a person can sit on as the lift travels between floors. The lift goes on a track fixed to the stairs or the wall alongside the stairway. Stairlifts can be used for stairs – either inside or outside – to get in or out of your home. The stairlift chair folds against the wall when not being used so that others can walk up and down the stairs safely.
If you're unsure about whether a stairlift is right for you and your home, here are some things to think about:
Will you be able to get on and off the stairlift by yourself?
How long do you think you might be living in your present home – will you be there for at least several more years?
Will you be operating the stairlift yourself, or will you need someone to help you?
Is there enough space at the top and bottom of the stairs for you to get on and off the lift safely?
For the stairways into or around your home to work well for you, you need to think about how you get around, what your needs are, and what your home is like. If you intend to age in place and hope to remain there as independently as possible for as long as possible, stairlifts could help you accomplish that goal.