Grab Bars: A Necessary Safety Feature for Seniors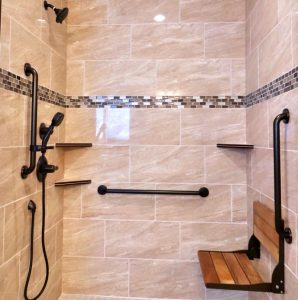 We know that safety is the number one concern for aging adults and their families as they make decisions about their future.  When making accommodations for aging adults in their home, a vital addition for senior safety is grab bars. They are one of the easiest home improvements that can be made to the home for seniors who wish to age in place. Knowing the necessary safety features available is beneficial in keeping them safe at home.
What Are Grab Bars?
Grab bars are a simple but vital piece of equipment that gets installed into a wall and helps a person to support themselves while they move throughout their home. They can be installed in various places throughout the home. They help by keeping you safe while moving around and keep independence. Grab bars allow individuals to grab hold of something to steady themselves. Especially in slippery situations, such as bathrooms, grab bars allow you to perform activities of daily living alone, but safely.
Types Of Grab Bars
Several different types of grab bars can be installed in various places throughout the home. They include areas like, showers, bathrooms, and near the toilet. We carry special fold-down grab bars for areas where there is no wall space to accommodate regular grab bars, which are ideal for assistance with the toilet. At Home Access Remodeling, we also specialize in installing into fiberglass and tile with a special technique.