Benefits of a Roll-In Shower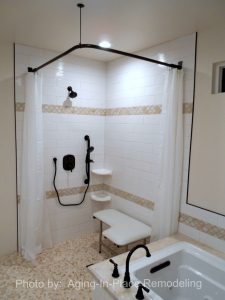 Navigating the bathroom when you have mobility challenges makes life at home difficult. Aging in place safely and as independently as possible requires you to be able to meet your hygiene needs without challenge. When you can't, it can be both physically and emotionally exhausting simply trying to use the toilet, wash your hands at the sink, or to get in and out of the shower or bathtub. At Home Access Remodeling, we understand that no one wants to ask for help to take a bath or a shower. This is why we're honored to be able to provide an easier way to navigate your bathroom with a roll-in shower.
What Is A Roll-In Shower?
With a roll-in shower, the floor is flat and rimless, allowing a wheelchair to maneuver into the shower stall easily. This shower solution allows those with disabilities to have independence when bathing, making it convenient for them to get into and out of the shower on their own. It also allows disabled or elderly homeowners to live an independent lifestyle. While a roll-in shower greatly benefits those that use a wheelchair, it is also helpful to anyone who might find it difficult to get over the side of a tub. Contact us today to design a costume bathroom space that meets your needs.